Stihl Equipment Sales in Saskatoon SK
Saskatoon's Stihl Superstore
The Rent-It Store sells and services a wide variety of Stihl Products.
Stihl is the #1 selling brand of outdoor power tools in Canada.
Blowers, trimmers, chainsaws and more can be found in our showroom
at 633-45th Street East in Saskatoon SK.
Take a look at "
The Stihl You Tube Channel
" for informational videos on Stihl Products.
Visit Stihl's Tech Chat with Chad for informative "How to" Videos on your Stihl Products.


Stihl Warranty & Service
All warranty work and service is done onsite at our shop by our Certified Stihl Technicians.
Stihl Specials
See our sales and specials on Stihl equipment on our Stihl page: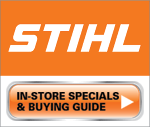 or
"Like" us on Facebook for upcoming specials, videos and more!